Hi everyone, its been a slow day here today so I figured I would make a post showing off one of my current projects. I have been a bass player for around 8 years now, and I was looking to get into something else. So I decided to start to try and pick up playing electric guitar!
I decided it might be fun to try and print a guitar and see how it sounds versus some of the others I already have. I settled on a Warlock since I don't have any other really metal looking guitars and metal is my favorite to play. Here is the one that I went with: Printables
Ended up printing the outside pieces in PLA+ and doing the inside pieces in ABS for some extra strength, especially where the neck screws in. I'm quite happy with how the print turned out, now I just have to finish sanding it and painting it while I wait for all the parts to come in.
What do you think of the Frank sticker on the bottom? I know that I want to include one, but there isn't a lot of space with the honeycomb
I will have to experiment a bit with where it goes.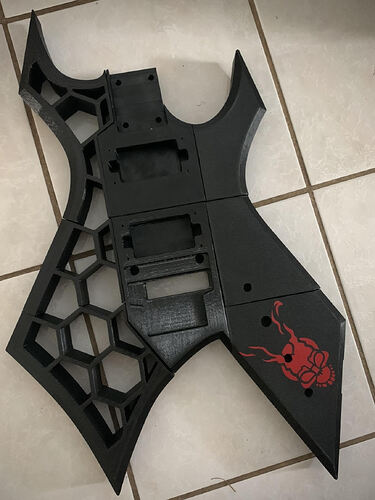 I am very curious to see how it plays, hopefully it is not too top heavy, I am going to kit it out with an Ibanez neck and EMG pickups.
Anyways, let me know if you have any other ideas of things that I could try!
(also, I'm aware of the horrible ringing on the middle piece, I have re-run input shaper and its all better now. It will be gone during the sanding steps anyways)
Happy Printing,
Matthew