Share some of your best prints here guys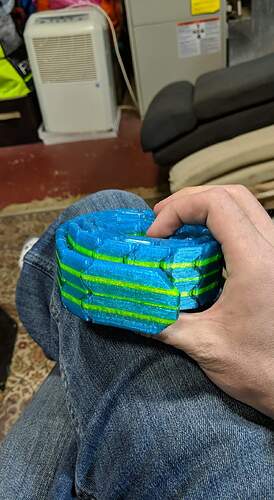 Some said it would never work in tpu. Well it does, but i printed it a size too big for me XD
Not my best but im proud of it anyway.
About a year ago for some reason I decided to print a new faceplate for my xbox one controller. Then one thing led to another and now I have a mostly 3D printed xbox one controller housing.
It's has it's issues and the colours don't match (orange front, purple back) but is fully functional and was actually used heavily for a while.
My Auntie has been feeling Blue recently, So i'm making her an Eeyore (Her Favorite Toon) from Thingiverse I found.
I Tried to messing ( increasing) with the Flow rates to give it a leathery texture.
Finished!

BattleShip Grey: 3DPC Euro Meduim Grey
Light Grey: 3DPC Standard Line RAL 7047 Telegraph Grey
Black: 3DPC Standard Line Black PLA
Pink: 3DPC Standard Line Pink PLA
RED: Creality Red ST-PLA
Stuff I had around from when 3DPC sold Creality Filament, OLD stock
Blue: 3DPC Standard Line Light Blue( I was out of Medium Blue at home
)
haha thats awesome. I've been requested to do a mickey mouse head … just the head… little worried about her actually
Excellent, Go for it!
Make the world Better, Happier one print at a time!!
I really want to make one if these. I've replaced my phantom with a mini2 but these look like fun
Thats an awesome Witcher scene!
Thank you so much! Had a great time making this one.
Ooooh more info on those drones please!!
After over a 100 hours of printing, my OpenRC F1 car is finally finished and radio controlled
I learned a lot from this project, starting with Fusion 360 converting MESH to BREP so I could customize the graphics on the car body to add my own preference. Due to the multicolor printing with the Prusa MMU2S, there are many variables to dial in, such and cooling moves and purge volumes. I still haven't perfected the purge volumes because I keep thinking filament is expensive, while it's really not, LOL, so I should just be liberal with the purging! I thought TPU for the tires would be difficult to do in multicolor, but it really wasn't. I just have to keep reminding myself to loosen off the extruder idler tension when working with TPU.
I repurposed RC parts from another model I don't use anymore.
I discovered the 540 equivalent 4600kv brushless motor is a little too much for this car. i.e "LUDICROUS" mode! I'm barely on the throttle and it's moving quickly. Making gears in Fusion 360 couldn't be easier once I learned the actual meaning of some of the terms. The brushless motor I had was too large in diameter for the stock 14T/40T pinion to spur gear setup. Before I could test it, I printed an 18T pinion with provision for grub screw, so the oversized motor could now mesh with the spur gear, only to find it was way too fast. I decided to make a new spur gear as well and changed the gearing to 16T/42T.
It works better, but ultimately, a lower kv motor would be optimum.
Overall, super happy with the way the whole project and car turned out. If any one is interest in this project, you can find the STL's on Thingiverse OpenRC F1 car - 1:10 RC Car and creator Daniel Noree for build instructions and 2017 through to 2019 STL variants of the car.
That is very nice and what great results. is there much post processing for the parts? I had never heard of that printer or I guess the upgrade until now, seems to work really well
A little light sanding on some of the surfaces post printing except the rear wing. I decided to give it a clear coat after the sanding to gloss it back up. I could have wet sanded it down again and add a second coat, but figured it was close enough. The printer is a Prusa MK3S+ with a multi color MMU2S unit option attached to it to handle up to 5 different filaments.
It is such a cool print! I see things like this and want the MMU! They I ask myself what I would do with it and there are crickets. I personally want one but can never think of what I would use it for. I am beginning to guess if I had one I would find the use. Hmmm