Here you can just show off what you got, printers, prints, other (related) hobbies that are cool!
I just bought an Ender 3 Max. I have been tinkering with 3d printing for a few years now but had someone else printing my stuff. This is my project that started me in 3D. I do Kite Aerial Photography and I needed a rig for my DSLR camera.
Kite aerial. that interesting!
It's my first and only one printer I have!
Oh boy! I learned a lot with trials and errors.
Anycubic Mega S. I use an X-Carriage Mk4 with Bltouch, E3D V6 hotend and BMG Extruder.
My last project was an Nook's cranny shop from Animal Crossing. It took me so much time.
Nice setup man, yea good print too looks great!
My take on the IKEA enclosure. Somewhat modified.
50mm extruded aluminum posts powder coated in matte black.
Redesigned mounts and hinges.
Downdraft ventilation to carbon filter for ABS indoors.
Moved the power switch to the front of the structure for easy access.
Temp humidity sensor for the enclosure.
LED's running on Octoprint to show print status.
Quick disconnect wiring for the printer so it's easier to get in and out of the enclosure without having to disconnect all the wires one by one. (I still have to print up a new wiring pass through for that so I can bolt down the bulkhead connector side of that printer disconnect. )
There's a bunch more here but I'm finding this interface here odd for uploading pics.
(It's my first day… I'll hopefully figure it out!)
Very nice setup. Where did you get the large carbon filter. At least I assume that's what the cylinder attached to the bottom is. Also, I see you're waterboarding Bernie.
What a setup you have here, great job!
50+ hrs of printing, 2 days of sanding and painting & a day with the superglue. One desktop lantern.
Not something I do often, but something about this particular Malix3D model really appeals to me, so when I finally found this transluscent emerald green PETG filament here on 3D Printing Canada, I went for it.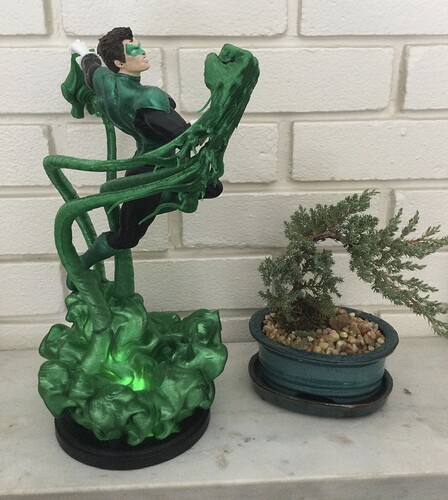 I've begun experimenting with using glass bought from 3DPC's clearance pages. It's from a Longer L1 and so quite a bit larger than my build plate, but that has allowed me to extend the build plate size in Cura slightly. That has me wondering what else I can do to extend the carriage's range of movement.
No off-colour remarks please… Here is my Ice tower for my Frostgrave game.
with lighting (one remote_c tealight per level)
What are the infill settings you use with translucent filament.
Nice. What filament is that. I love the transparancy.
Addendum: @LEGOManiac
The correct reference for the transparent filament is : GEEETECH Pla.
CCTREE I believe. Purchased on amazon.ca. I used 20% infill. I dont mind the look because it makes it look more like ice. Am wondering how I can tweek the slicer to produce prints with a clearer aspect but I thik there may be limit with FDM prints. I was thinking maybe 100% infill but did not test it. Each level of the tower takes along time to print espcially the ground floor and I figured, maybe the result would be too opaque?..
Wow. Printers on floor and no enclosure. You got balls, bro! And obviously you don't have a cat, or if you do, a well behaved one (if there is such a thing)
So here is how I am set-up for my CR6-SE. I got an enclosure for it. I should have gotten one for the CR6-SE MAX. I use my enclosur to store my rolls of filament (please don't judge me) as this keeps it warm with a level humidity level You can see the actual temp and humidity on the small unit I bought on amazon. It is fairly accurate as I tested it in the living room next to my indoor/outdoor unit weater station. Not bad for 12 loonies.
The setup is very quiet. My laptop is right next to the enclosure and my friends don't hear the printer running when we are using discord or roll20.
Notice the filament dryer and filament stock under it, on the left.